Watching Live View over the Cloud using PC Viewer:
1. Click on any camera connected to the cloud and the Live View button. The viewer will toss you to Live view of the camera.
2. Click on the Live view button at the right top of the camera list.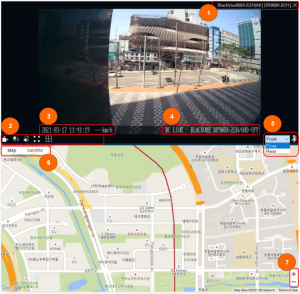 1) Camera name and camera model name.
2) (From left to right) Full screen, Flip upside down, Flip horizontally (left-right), Fit to playback screen, Multi-view (view up to 4 screens)
3) Time and speed
4) BlackVue Camera Live view
5) Camera view
6) Map type
7) Zoom in/out