On the Cloud server, there are two types of file storage; Blackvue Cloud and Live event upload. BlackVue Cloud storage retains all the files uploaded from the SD card in your dashcam. If you turn on Live event upload, all the event files will be automatically saved in Live event upload storage.
1. Click next to your camera and camera settings on your camera list.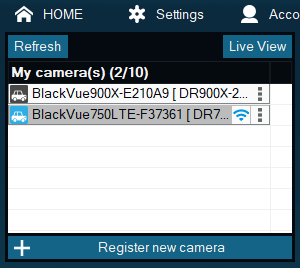 2. Click on Event Upload. It is off by default. Turn it on to save event videos in Live event upload (Cloud).
3. When Live event upload is on, you can change recording settings per each event detected by the dashcam. By default, only Impact detection is on. Click the events you want to save in the Live event upload.